Keeping up with the latest in fashion can often be hard, as the world of fashion is always evolving. There's been a recent trend in fashion that has opted for a more minimalist and classic style, which often utilizes monochromatic color schemes. One of the most popular articles of clothing worn by men and women alike is a biker leather jacket. Leather is currently very popular, and the biker jacket has become an increasingly fashionable piece of clothing to wear. Here is why you should add one to your clothing arsenal…
A Fashion Classic
Marlon Brando sporting a classic biker leather jacket in "The Wild One"
The first thing that should be noted is the fact that leather jackets have been around for decades. If you look at pop culture icons such as the movie "Grease", you'll find that leather jackets were very cool back then (the 1950s). This hasn't changed – even today.
A great leather jacket is much like an excellent quality thin lapelled suit; it is a timeless piece of clothing. Leather jackets obviously have evolved, but the current designs remain true to tradition.
Leather motorcycle jackets are a great hybrid of the original leather jacket designs and the avant-garde tastes of today. If you look at many of the leading brands that have championed these jackets, you will find that they mix up the subtle elegance of these jackets but add a little bit of character and flamboyance to the look.
You will be able to see examples from leading avant-garde brands such as Rick Owens, Balmain and Saint Laurent Paris.
If you look at the latest ranges of leather jackets that have been designed by Hedi Slimane formerly creative director for Saint Laurent Paris, you will see very old-school biker fashion combined beautifully with modern features such as metallic spikes and buttons.
The latest range of leather jackets available from Saint Laurent Paris has been widely praised by the fashion community for effectively bringing biker fashion back into the modern world. Indeed, going ahead and rocking a fashionable biker leather jacket like this is certainly a great way of making a statement.
New Biker Leather Jacket Styles And Designs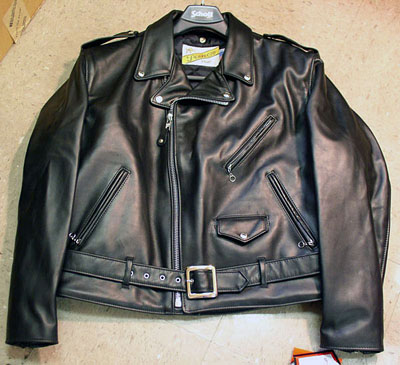 None of these new leather jacket designs discriminate where gender is concerned. If you decide to go ahead and buy a leather motorcycle jacket from one of the leading fashion houses, you will look impeccable and very fashionable, regardless of who you are.
You will find that many celebrities, ranging from Adam Levine to model superstar Cara Delevingne, have started to wear leather jackets in a contemporary biker style in recent times. Wearing this style of jacket certainly will raise your status up to the levels of these trend setters.
One of the best aspects, however, about biker-style leather jackets is the fact that they last a very long time. This is something you just don't get with any other type of jacket.
Leather is an exceptionally resistant material that can last for decades, if looked after properly. This is especially true for the high-quality leather that is used by fashion houses to make leather jackets. Buying a jacket is definitely worth the investment as it will serve you for a very long time. The initially very expensive price can often put off potential buyers, however the long term benefits definitely outweigh the short term high cost.
In addition to the expense, we have established that leather jackets provide such a classic and timeless look that purchasing one today will still mean you'll look fashionable for years to come.
Indeed, many of the latest fashion houses have started designing a contemporary variation of the original biker leather jacket. However, jackets from yesteryear will still look very fashionable, even today.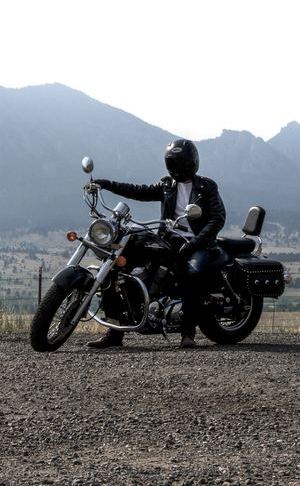 But ultimately, a biker leather jacket easily invokes visually powerful images of masculinity and manliness that are firmly imprinted into our minds as we grew up in a culture of seeing countless macho men in biker leather jackets doing tough jobs with an attitude on and off screen.
It makes it all the more harder for us lesser mortals to not want to emulate them at the very least by dressing like them.
The same goes for the ladies who are constantly fed stunning images of ultra-chic female celebrities, models and other fashionistas looking absolutely gorgeous and feminine on and off camera, showing their legions of admirers that they do know how to wear their leather in style.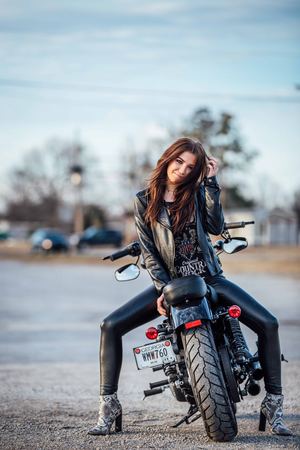 No wonder then that a biker leather jacket is a must have apparel in the wardrobe of fashion conscious women of all ages around the world.
There really is a whole plethora of different reasons as to why you should start wearing a leather biker jacket. Not only are they timeless, they are also a great fashion investment.
You can expect to purchase a vintage or contemporary jacket, knowing it will look just as fashionable and trendy in decades to come. When it comes to fashion essentials, you need not look no further!