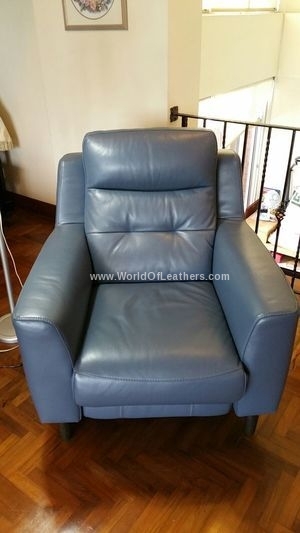 Recently, my sister and brother in-law finally bought a 3-seater leather sofa with a matching single-seat leather recliner after several years of procrastination.
They put off the purchase for so long because a quality genuine leather sofa set is a big ticket item and they didn't want to rush into getting one without doing proper in-depth research on getting the best leather furniture available for the given budget.
Having visited their home and sat on their new leather sofa, I have to admit they done their research well, and had bought good quality leather furniture, which was well-made and very comfortable at a reasonable price.
However, their joy and satisfaction was short-lived when I received a call for help from my brother in-law shortly after my visit. He said the print design on his T-shirt had stained his single-seat leather recliner and he only discovered it days later.
He tried cleaning and removing the print stain with the complimentary leather sofa cleaning liquid that was given by the retailer without success.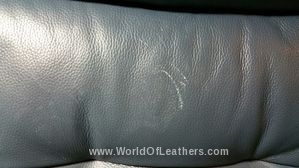 My brother in-law took a photo of the stain leather piece and as you can see from the photo, the stain looks rather tricky to remove.
He initially thought of calling the retailer for advice but decided to call me instead, as he recalled that I was a leather aficionado and should know a thing or two about removing leather stains.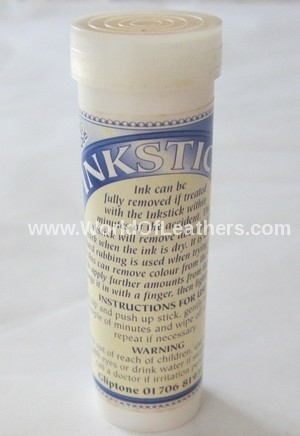 I told him not to do anything further but to wait patiently for me to head over to have a closer look at it. My initial concern was that his first attempt to remove the stain may have permanently set the stain into the leather.
Armed with my trusty Gliptone Ink Stick, I headed to their apartment which was a mere 5 minutes' car ride from my home.
Upon a close examination of the stain with the help of a small torch with white light, I quickly realized that even though the stain was stubbornly clinging on to the surface of the clear coat sealant, it had not penetrated into the leather itself.
I then proceeded to apply a small amount of the paste directly onto the stained areas by lightly dabbing with the Gliptone Ink Stick.
I then waited about a minute or so for the paste to work itself into the stains and gently rubbed away the stains with a soft white cotton cloth as seen in this photo taken by my brother in-law.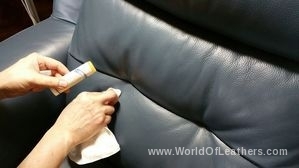 The end result is a leather recliner looking brand new again and my reward for rescuing their furniture was a 16 ounce medium well-done Ribeye steak for dinner as I had timed my arrival an hour before dinner!
Note:
I have mentioned in my other articles in World Of Leathers that there is no product or cleaning method in existence that can clean or remove stains from leather every time without damaging the leather surface, simply because every leather piece is tanned, treated and dyed differently, even those from the same tannery.
Hence, I can never overemphasize the importance of doing a patch test on an inconspicuous part of the leather furniture before applying it to the stain area as the results are often unpredictable at best and the last thing you would ever want to do is to add further damage to the leather surface.
As for my brother in-law's leather sofa, I didn't see the need to do a patch test only because the leather has a protective surface coating and the stain was actually sitting on top of that coating. That would explained my confidence in getting the stain off without breaking a sweat!