If you are want to get into motorcycle leather jackets, this is the place to be.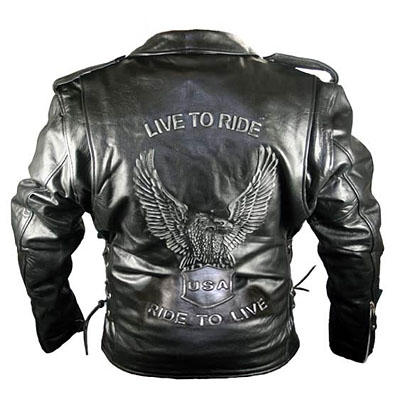 Don't over focus on brand names when you're trying to find a jacket to ride in. Often, you'll find that it's all about what fits you well so that when you ride you're getting an experience that's not all about the jacket, but also about staying focused on the road with the full knowledge and confidence that you are properly protected as you ride.
Please always remember you do not enjoy the same level of protection that a motorist has in a car and your only protection from impacts are your helmet for your head, jacket for your mid upper body and pants for your lower limbs.
Hence, you should be concerned about the size of the jacket because if it's too big or small it may start to get in the way and that could make it hard for you to ride properly. This is especially important if you are wearing a motorcycle leather jacket with armored padding and inserts as they may not be aligned correctly with your body contours to give maximum protection if it is not a good fit.
What To Expect When Buying Motorcycle Leather Jackets
When you're in the market for a jacket, you need to test a few out and wear them for a while before you find what works for you. Stores aren't likely to "rent" you a jacket while you try it out over a few days. So see if you can borrow a jacket from a friend or acquaintance first, just so you can get the feel of it.
Protection, Comfort, Style, Quality and Durability are the features you should be paying close attention to when looking to buy a motorcycle jacket.
Protection
Protection should be the top priority when selecting a motorcycle leather jacket. As highlighted earlier, the only protection riders have from impacts and crashes are their gear. However, there is usually a trade-off between protection and styling as not everyone thinks a cool looking motorcycle leather jacket can retain its good looks looking like an armored armadillo. Basic padding is the simplest and least expensive way to safeguard against injury but only in minor accidents. Jackets that offer reasonable protection come with reinforced padding in the elbows, shoulders, chests, and backs.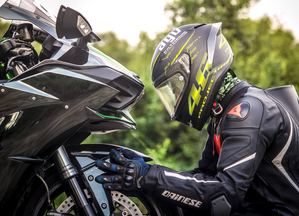 For those who want or need maximum protection such as racers, heavy-duty plastic or Kevlar can also be inserted into the jacket to protect vulnerable parts like the torso. Always check to ensure the inserts do not shift or move around too much as this is usually a sign of a low-quality jacket and the armor is likely to be ineffective in a crash.
Also take note if the jacket incorporates reflectors into its design as these reflective stripes will reflect light in bad weather and/or night conditions enhancing your visibility and safety. Lastly, examine the leather jacket thickness as good quality leather should be at least 1.2 mm thick.
Comfort
Besides protection, it is important to select a jacket that is able to keep the rider dry, cool, or warm depending on the seasons because it is hazardous to ride in cold conditions as it can cause numbness, sluggishness and slower response times to emergency situations.
Leather is popular for its cool sleek look and makes a good mild winter jacket on its own, but unless the jacket has vents and perforations for use in summer, you may need to get another jacket that is designed for summer. Other riding comfort features to look out for include the following;
1) Pockets: Check for the quantity, size and design to make sure they meet your requirements. Also check that they can be easily zipped or closed securely with one hand.
2) Zippers: Good quality Jackets will often have YKK zippers as a standard feature.
3) Vents: Vents that are on the shoulders, under the armpit, or on the back will let the wind pass though the jacket and cool you down to help prevent excessive sweating and/or heat exhaustion.
4) Perforations: Perforations can be useful for those who do not like having vents as they can do an adequate job of keeping you cool in warm weather.
5) Long Sleeves: Long sleeves designs are useful if you are going to ride a lot as they help to keep your wrists covered from the elements when your hands are gripping the handle bars in a forward riding position.
6) Zip out thinsulate lining: A liner with a removable interior fabric that either zips or snaps into position giving riders the flexibility of wearing the same jacket all year round by simply adding or removing the liner.
7) Collars with adjustable flaps: You can tighten it for a snug warm fit around your neck or loosen it for increase ventilation or comfort.
8) Cuffs with zippers: Useful for adjusting to different types of gloves.
Style
There are several types of motorcycle leather jackets with each offering a different level of style and protection as each is designed for different purposes which can help make it easier to select one that suits your requirements.
Classic – Classic motorcycle leather jackets are all about making a fashion statement. They provide little to no protection and are suitable for those who don't own a motorcycle or intend to wear it for riding.
Race – As racing (moto) leather jackets are designed primarily for races with safety and aerodynamics in mind, you can expect a high level of protection with its thick armor padding and inserts. They are often brightly colored and decorated with graphics, with some having stripes or other patterned panels stitched together to complete the moto look so unless you are intending to participate in races, you may come across as a poser if you don't actually have a bike and helmet close on hand.
Retro – Similar to the classic, while you may actually find an actual vintage piece in a physical shop or online site, the modern retro jacket will have an updated shape and design but incorporate vintage graphics or patches to give it an authentic retro look. The protection level for riding varies from non-existent to heavy duty protection.
Touring – Touring jackets comes in a variety of designs that are centered on comfort. Hence, they are generally of a looser fit and come with relatively larger size pockets or occasionally even a hydration system. Their protection levels ranges from moderate to high.
Quality
There are only 4 types of real leather that are used to manufacture motorcycle leather jackets and you should always go for the best quality that you can afford.
Full Grain (Untreated) – Only the best quality full grain hides are used to manufacture the leather jacket and because the grain and top surface are left completely intact, the leather is extremely strong and durable. As only natural organic dyes are used to color the leather, over time, it will age nicely to form a patina that will give the jacket a beautiful and unique appearance. Hence these jackets are the most expensive.
Top Grain (Corrected) – Refers to hides that have their top surface sanded or buffed to remove surface imperfections followed by a coat of color pigments and further embossed with an artificial grain pattern. Most leather jackets are made using this type of leather as it is strong and durable enough to make good quality jackets but it will not develop a patina over time because of the finishing process.
Split Leather – Made from the bottom split of a hide and hence it is much weaker than full grain or top grain hides. It will then be given a thick polymer coating of color pigments, followed with the embossing of an artificial grain pattern onto its surface. It is best to avoid jackets made with it as the strength and durability is simply not there.
Suede – It is made from the underside of lambs and sheep but it is also commonly made using split leather from cows and deer. The hide is brushed to give it a soft fuzzy feel. Although jackets made from it are extremely comfortable, it is best to avoid these jackets if you are intending to use it for riding as the lack of durability and protection are a major concern.
Where to look for a leather jacket?
Look around locally first to try to find a jacket if possible. That way, you can try them on and see which one is going to meet your needs. Patronize a store that has reasonable prices. If you're one of their frequent customers, then it shouldn't be too hard for you to get a good deal.
Although price is an important consideration, it should never be the only consideration.  You may find cheaper prices by shopping online but be aware that online stores usually charge an additional shipping fee on items.
Whether you're planning to buy motorcycle leather jackets online or at retail stores, it is always a good idea to read through the reviews that people leave at various places online, so you can see whether or not they were happy with their purchase. They may share if the jacket they got was the right size or if it was in good shape when they bought it. If they had to make a return, you will have a fairly good idea on the customer after sales service.
Should you find a website or a store that is doing a sale, then consider stocking up on jackets. If you are buying more than one, you should try on different styles and cut to get an idea of whether or not they fit the look(s) you want perfectly. Frankly, it pays to have more than one leather jacket to wear so you have a different look when you need it. Plus, some can be lighter and suitable for warmer days, and you can get heavier jackets for the colder times of year.
One Size Doesn't Fit All
Your leather jacket should not be worn if it is far too small for you (maybe you're planning on getting in shape so you can fit into it?). The key is to get one that is snug and comfortable because if it is far too tight it will eventually start to rip on you. Some people that repeatedly buy the same jacket will notice that they always rip in the same spot. This could just be due to their body shape, but it could also be down to bad jacket design or manufacture. So if you find a particular brand or style has a weak spot, maybe it's time to try another jacket design or manufacturer the next time you go shopping.
If you do buy a leather jacket outright and if there are any issues with it, you should never hesitate to take it back to where you got it from and either get another jacket or a refund. Don't waste time hoping in vain that a jacket will eventually stretch to a larger size if you find it is a little tight at the beginning. The fit should always be snug and comfortable.
Motorcycle leather jackets provide a great fashion statement, and can also protect you when you are riding your hog. Leather's protective qualities have been used for centuries in military armor. Motorcycle leather jackets were originally designed to provide crash protection for bike riders. They really only became fashion items in the 1950s but have retained that fashion icon status ever since.