Leather came into existence when Man first discovered that a wide variety of animal hides can be treated through various natural and artificial tanning processes to create a hardy material that is used to cover furniture, for making shoes and clothes, along with many other uses. It is scratch resistant, very durable and elegant. There are various types of leather, and each type is suited to particular applications. Leather is also made artificially and this "faux leather" is generally cheaper (though not as long-lasting).
The various kinds of leather used in products are:
Full grain leather
Split leather
Suede
Regenerated leather or Bonded Leather
Coated leather
Faux leather
Different leathers are used for different applications and purposes, and the use depends on what function is required.
1. Full Grain Leather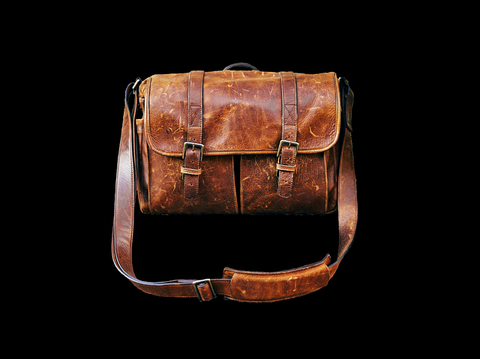 Full grain leather has not been touched up to cover any imperfections. It can be dyed, as can be all leather, and it has a distinctive smell and natural characteristics that make it a favorite for use as upholstery on furniture.
It has a very strong texture and can last for generations. In fact, it starts to look better after it has been used over a long time when a beautiful patina gradually develops as seen in this photo of a full grain leather bag.
If required, full grain leather can also be treated with a light surface protective coating or sealant so that it does not stain easily. It is without doubt the most expensive of all types of leather and usually reserved specifically for making top end luxury leather goods.
Full grain leather may sometimes have the top surface corrected by sanding to remove blemishes resulting in a variation of full grain leather that is called Top Grain leather. Because of the sanding, such leather is often given a finish coat.
A lot of the skin on original hide get damaged by scratches, branding marks and other surface imperfections during the lifetime of the animal and may need to be treated to create what is known as Corrected Full Grain leather.
2. Split Leather
When the hide of an animal is removed from its body it can be quite thick, so that is not easily usable. Technology has been developed to split such hides so that the same hide can give a greater area of usable leather. The top layer is called top grain leather. But in order to avoid confusion, it is important to note and remember that all Full Grain leathers are Top Grain leather but not all Top Grain leathers are Full Grain leather.
This process does make the split leather (bottom layer) more fragile because of the stresses and strains it has to undergo in the splitting process, but it can be treated so that it regains some of its original strength.
As the original cover of the hide is lost in the splitting process, most such split leather is embossed or buffed to create artificial textures. Because of this splitting, the leather does become cheaper to buy, though it will be thinner than full grain leather or even top grain leather and has a fragile surface.
3. Suede Leather
When split leather is buffed on both sides, it creates a soft and fuzzy surface that is commonly known as suede leather. Because many splits can be made from a hide, it becomes much cheaper than full grain leather. Its soft texture makes it a popular choice for shoes, and other apparel. The buffing does make it vulnerable to liquids and greatly reduces its durability.
4. Regenerated Leather (Bonded Leather)
Regenerated leather or Bonded Leather is leather that has gone through a manufacturing process that compresses it, a process that makes it look like high quality leather and hard wearing. It allows for low grade original hides and leather scraps to be converted, thereby increasing the usability of the available skins. These types of leather are cheaper than genuine leather and its smooth Matt finish leads it to being used extensively in restaurants and bars.
When the hide quality is very low grade, or when many leather scraps are regenerated, manufacturers add a thick layer of polyurethane to the leather that helps to hold all these scraps together which can make it stronger and more durable than the other lower grades of leather. While the polyurethane layer makes it impervious against most liquids, it cannot stand up to long-term constant and rough use and the polyurethane can break down under sunlight or other UV light source.
Its reduced cost allows it to be more widely used but the often smooth, almost plastic-like finish makes its surface non breathable and bare skin on it tends to sweat. Unfortunately, manufacturers are allowed to market it as genuine leather even if it contains less than 50% of real leather.
5. Faux Leather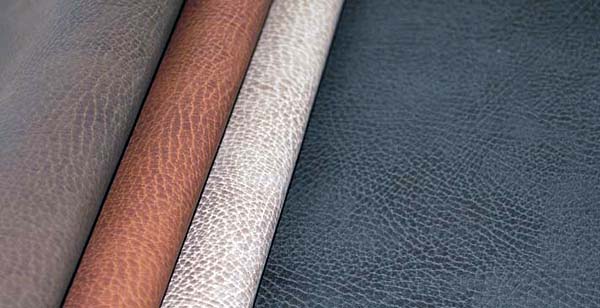 Faux leather is created from all-synthetic, man-made materials to make leather look-alike fabrics that are difficulty to differentiate from the genuine article.
Depending on the manufacturing process, it can be made very durable and endure a lot of wear and tear. It has a great advantage over genuine leather due to its low cost. Animal lovers who are against the wearing of animal skins are more inclined to wear or use fake and synthetic leather goods.
The Future of Leather
As one of the earliest natural material known to man for well over 5000 years, Leather in all its various forms will always hold its place among fabrics for its natural beauty, strength and elegance. But we need to encourage tanneries to develop and adopt new methods of tanning animal hides that are environmentally friendly in order to minimize the inherently harmful effects of leather tanning on the environment.