A few years ago when I was in London, I bought a top quality full grain Aniline dyed leather document case from Daines and Hathaway, the quintessential English leather goods brand for men. Renowned for its superb craftsmanship and fine leather quality, I was fully satisfied with my purchase.
As I reside in the Tropics with year round humidity levels of 90%-100%, it is essential that proper storage and regular maintenance are needed to maintain it in pristine condition.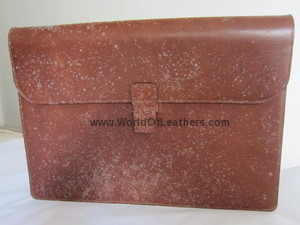 Inevitably, I got lazy with proper storage, and carelessly left it lying around in my room for a fortnight. Consequently, I was dismayed to see my prized leather document case completely covered in a thick layer of white mold.
Removing the mold is fairly easy; the hard part is removing it without damaging the leather surface. I cannot emphasize enough that there is no one perfect or even safe method to removing mold or stains from leather without damaging its surface. That's because you have absolutely no idea how the leather was tanned, treated and dyed.
I have the option of using high grade leather cleaners like the Gliptone Leather Cleaner even though it is clearly written on the bottle that it is "Not for use on Aniline, Suede and Nubuck leathers". In fact, I have used it experimentally on all 3 types of leathers with mixed results so there is some justification for heeding the warning label.
But I have also used the Gliptone Leather Cleaner extensively to safely clean all pigmented (corrected grain) leathers which are the most common sealed leathers used to manufacture a wide variety of leather products and furniture.
However, even though I have used the Gliptone leather cleaner to clean and remove the mold from my Daines and Hathaway leather document case previously without incident, I suspect it does not kill off the residual microscopic mold spores and may even encourage its regrowth.
Hence, this time round, I decided to use Isopropyl Alcohol (Rubbing Alcohol) to remove the mold and kill off any residual mold spores on the leather surface because of its absolute sterilizing properties.
Now this is not the first time I had used Isopropyl Alcohol on leather. I had used it previously to successfully remove ball point pen ink stains on my leather briefcase without damaging the leather.
As I have mentioned earlier, there is no product or method in existence that can clean or remove stains from leather every time without damaging the leather surface. I have used Isopropyl Alcohol on a wide variety of leathers and the results are often unpredictable simply because every leather piece is tanned, treated and dyed differently, even those from the same tannery.
In fact, I ruined my Montblanc black leather name card holder recently by damaging its smooth shiny leather surface when the Isopropyl Alcohol stripped away the dye and oil from its surface along with the ink stains that I was trying to remove.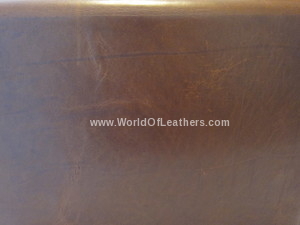 Getting back to my Daines & Hathaway document case, it is made from full grain leather with all the natural markings, blemishes and is aniline dyed as can be clearly seen from the attached photo.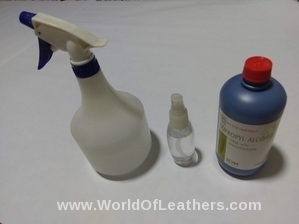 I usually transfer the Isopropyl alcohol from its original bottle to a regular size spray bottle and a smaller spray bottle. Using spray bottles of various sizes allow me to have some control over the quantity dispensed and minimize uneven applications and blotches due to over application/saturation.
Now, I have the choice of spraying it onto a clean soft white cotton cloth and then use the slightly damped cloth to wipe over the entire surface of my leather document case. Or I can also spray directly onto the case and then gently wiped away the mold with the cotton cloth.
In this instance, I used the bigger spray bottle and sprayed the entire document case liberally before wiping it down with a soft white cotton cloth.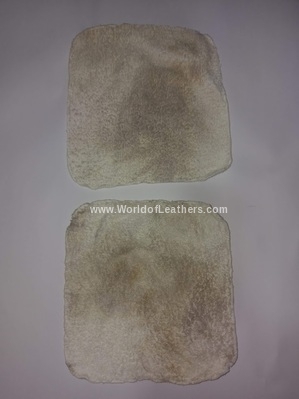 As it was Aniline dyed, it was inevitable that I removed some of the Dye from the leather surface in the process. But most of the dark stuff found on the cotton cloth was clearly from the mold.
From the photo taken after the cleaning process, you can see I got lucky this time round and the mold was completely removed with minimal damage to the leather surface.
I didn't see an urgent need to use a high quality leather conditioner to reintroduce leather oils to nourish the leather but will probably do some at a later time when I am in the mood to do it.
Always remember – when in doubt, if possible, try testing it out on an inconspicuous area of your leather product. If unable to do so, proceed with extreme caution as the last thing you want is to add further damage to your precious leather thingy.