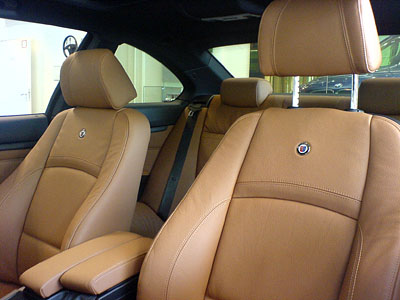 Finding some leather car seats shouldn't be too hard if you're willing to put some work into it. You can figure out how to get the right seats, where you look for a deal, and even how to take care of them. Read on to learn more…
One way you can get this type of car seat is to just buy the leather and cut it yourself. There are quite a few different options out there, but this one saves the most money. However, you cannot be careless with this, and it will take quite a bit of time to re-upholster seats, so it's not a good idea to go for this option unless you have some experience in this area. However, if you are willing to give it a go, then you can find all the necessary tools online. Since it's a specialist craft, sourcing tools locally might be a problem.
Getting Professionally Fit Leather Car Seats
If a do-it-yourself  job is out of the question, then take your car to an auto-shop that does vehicle interiors and they will be able refit the whole car with leather inside, so be sure you ask about that if you enjoy the look and feel of leather. Automotive leathers enjoy distinct advantages over other car seat upholstery materials like cloth, wool, vinyl and polyester.
Automotive Leather is able to repel liquids and resist stains better than all the other materials. They are also more comfortable and easier to clean and maintain. In short, you can never really go wrong in choosing automotive leather over other automotive upholstery.
There are quite a few different ways to take care of leather car seats. Polishing them regularly keeps them in good shape, but be aware that you won't be able to use the car for a couple of hours afterwards while the polish is absorbed and the smell pervades the car. Pick a time when you won't need to use the car and, if possible, leave the windows partially open to allow the car to air during and after polishing. Only use good quality polishes and cleaners that are specifically designed for automotive leather; make sure there are no warnings on bottles against using the cleaners on the material.
Leather Seat Options
One thing to think about when ordering leather car seats (or leather to re-upholster existing seats) is the color. For instance, light colored leathers stain a lot more easily, and noticeably, than dark leathers, so if you have kids, there's always the possibility of drinks spillages that could stain the leather. Light colored leather also shows dirt and other marks much more than dark leather does, and you may need to clean light colored leather more frequently as a result. Either way, make sure you research the price of the various options you're interested in as one kind of leather may be quite a bit more expensive than another. But if you're set on one color, you may have no choice but to pay a premium price.
Now imagine a black car with black or dark colours leather seats on a hot summer day parked for hours under the blazing sun with the windows winded up. Chances are you'll hesitate to hop into the car whilst wearing shorts as you risked getting first degree burns on your exposed thighs. Although this problem can be largely prevented by temporarily placing towels or blankets on the seats, you will find it a bit troublesome. Conversely, sitting on automotive leather seats on a bitterly cold winter day is akin to sitting on a block of ice but that's not really an issue when one would be suitably attired in warm winter clothing. But that's also another reason why many car manufacturers offer seat warmers as an option. It has been claimed by other leather websites that this "hot & cold problem" is due to the fact that leather is not a breathable fabric. That's strictly speaking incorrect.
Leather is inherently breathable and this is especially true of very high quality automotive leathers like Nappa leather which is full grain leather that hasn't been buffed, altered or treated to remove defects within the leather. The special tanning process transforms high quality leather hides into soft velvety leather that is both highly breathable and durable. It is those lesser grade leathers with defects that have been removed by buffing and given a thick coat of pigments and embossed with leather patterns that formed the vast majority of automotive leather seating on offer that have their inherent breath-ability greatly diminished by this additional tanning process.
Classic car – a 1974 Lincoln Town Coupe with leather interior
Know that when you put leather into your vehicle, it may become a challenge to sell it if you're not able to replace it with the original interior. If it's a classic car or something that people enjoy having the original looks, then you will definitely need to restore the original interior as soon as it's time to sell. Some potential buyers may like the leather interior anyway but the only way you'll know is if you discuss what interior they want before they buy. If they indicate that the leather interior is a deal breaker, telling them the original interior can be restored prior to the sale is your only option should you want to successfully conclude the sale.
Now you should have a better idea about how to install leather car seats. There are quite a few options out there, so do your research beforehand and decide if it's just leather seats you want or a whole interior refit. It's going to cost some money, so make sure you know exactly what you want before ordering.