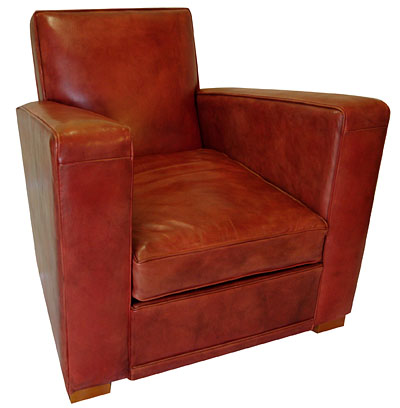 Leather upholstery is luxurious, beautiful and durable. When it comes to good looks and great function, there is nothing classier, more comfortable or more practical than antique leather club chairs. These types of chair can be had as authentic originals for a very hefty price, or you can take advantage of the many fine offers on modern, well made replicas.
Leather Is Easy To Care For
Designs in leather club chairs and other types of leather upholstered furnishings abound, and you may be surprised at the sheer practicality and durability of well made leather upholstered furniture. When compared with fabric covered pieces, leather furnishings are easier to clean and easier to keep beautiful year after year or even decade after decade.
Leather Furnishings Are Available In Many Attractive & Timeless Styles
Many different types of furniture can be found with attractive leather upholstery. From sleek, smooth straight-backed chairs with leather seats to deep, cushy armchairs to comfortable and versatile club chairs, you can take your pick of high quality, long lasting leather furnishings. Colors and finishes of leather are virtually unlimited; however, for a long lasting, high value purchase remember that it's best to stick with neutral colors.
Club Chairs Represent A Remarkably Smart Investment In Furnishings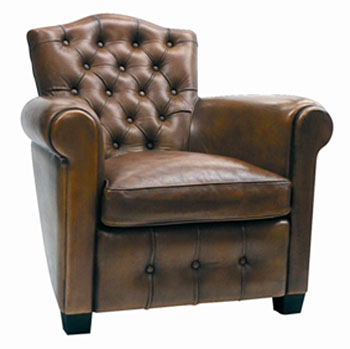 Antique leather club chair replicas are incredibly versatile in that they can be used around the dining room table, around the poker table or rolled into the living area for additional comfortable seating for movie viewing, conversation or just sitting around the fire. This type of chair was originally designed to handle hard use in gentlemen's clubs. Men would gather at the club to have a drink, play some cards, smoke cigars, drink brandy and chew the fat.
Club Chairs Fit In Anywhere
It goes without saying that the club chair design had to be comfortable and durable. This is why this style of chair remains a perennial favorite with designers, householders and owners of restaurants, bars and other places that people gather. Really, when you are looking for a versatile, durable item of furnishing that will provide value and function in your home for a long time to come, you can't go wrong with a set of well-made club chairs.
Versatile Leather Never Goes Out Of Style
You may worry that a long-lived item of furniture may go in and out of fashion; however, with club chairs you don't need to be concerned about this. When selecting these, just be sure to choose a neutral color (such as brown or tan) that will blend with any type of furnishing you may purchase in the future. Dining room tables and living room furniture may come and go, but well chosen chairs will give you comfortable service for generations if you take good care of them. They are the perfect accompaniment to other pieces, such as leather sofas and easy chairs, classic wood accent tables, dining tables, bookcases and other standard items of furnishing. You can change from traditional to modern designs and still find that your well-made leather club chairs fit in perfectly.
Remember That You Get What You Pay For
Genuine or reproduced antique leather club chairs often carry a fairly high price; however, it is easy to see that they also deliver tremendous value in terms of lasting good looks, comfort and versatility. When you purchase fine leather furnishings, it is smart to think of your purchase as an investment rather than a daily expense. If you invest properly in well made, easy care, good looking leather-covered items of furniture, you will not have to replace them every few years as you would with most modern upholstered furniture. Your leather furnishings will become a fixture in your home and even take on "member of the family" status. Your children and grandchildren will cherish their memories of comfortable and cozy times spent with you on your classic leather sofa and chairs. In fact, when you invest in fine leather furnishings, you can expect to pass on valuable and well loved family memories from one generation to the next.