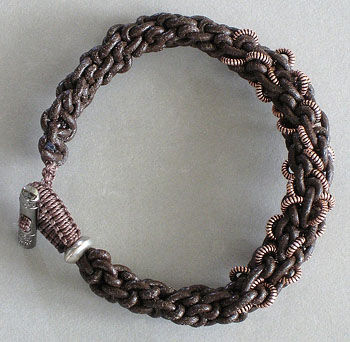 Leather is a versatile material that comes in a wide range of weights, types, colors and textures. If you have never worked with it before, you will be amazed at the nearly limitless craft projects it can be used to make. The leather craft ideas listed in this article are relatively simple, and the results of your work will not only be beautiful, but also something that is useful.
1. Leather Jewelry
Leather jewelry is easy to make and fun to wear. You can decorate the leather by painting it, adding beads or cutting it into intricate shapes. You will want to use leather that has some body without being too thick or stiff. If you want to use thin leather, you can braid strips of it into a bracelet, necklace or use several strands to create a belt. You can string colorful beads onto the thin strips before braiding, and create a unique tassel at the knotted end.
2. Leather Tooling
Plain leather has a certain beauty to it, but most people prefer to decorate their leather projects with beads, paint or by tooling it. Leather tooling is not difficult once you get the hang of it, but it does take some practice. You will need a set of carving and stamping tools made especially for this craft and a book explaining the process before you begin your project. A heavier grade of leather works best for tooling since it allows enough depth for a pattern to be worked in without puncturing all the way through the piece.
3. Painting & Dyeing
Ethiopian Leather Painting
Another way of decorating leather craft projects is by painting or dyeing. If the leather is going to be made into a piece of clothing that is flexible, dyeing will work better than painting. Paint sits on the surface and will crack when the leather bends, but it is relatively stable on items made with thick leather such as a bookmark or belt that is not subject to much flexing. Whether painting your project or dyeing it, the leather should be treated with oil to help preserve and protect it.
4. Animal Projects
People who have animals find additional uses for leather that others may not. It is not difficult to create a sturdy and attractive collar for your dog. Use relatively heavy top grain leather and cut it to the desired length before attaching a buckle and punching several holes at the opposite end. You can decorate the collar by gluing jewels, tooling designs or painting it. Make sure to include a metal loop so a leash can be attached, and you are sure to get some compliments when you walk your dog.
5. Bags, Purses & Wallets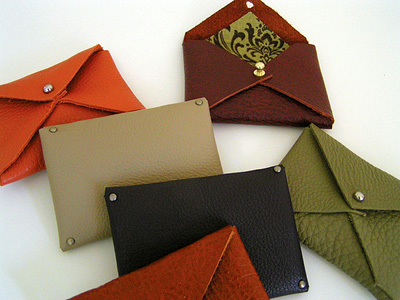 Some of the easiest and most useful craft ideas include bags, purses and wallets of whatever size you desire. You will need a sharp knife to cut the leather without tearing the edges and an awl or hole punch to make holes that thin strips of leather or waxed thread can be inserted through to secure the edges together. You may want to take apart your favorite old purse that has worn out so you can cut a pattern from it and understand how the pieces fit together.
Some people like a bag large enough to hold lots of stuff, so cut the medium weight leather into pieces that will form a bag of whatever size you want. Once the two pieces have been sewn together with leather laces or a heavy duty sewing machine, fold over each side of the top to form a channel through which the handles can go. Create the handles by braiding 1 inch wide strips of leather into a strand that is long enough to fit through the channels twice and form whatever length of strap you would like.
6. Clothing
Some leather craft ideas are a little more complicated. Simple clothing pieces can be made of leather such as vests, skirts and even pants. A leather vest or skirt will be easier to create than a pair of pants, but patterns are available in fabric stores that can be used to make these items. You will need a sewing machine that is able to handle sewing through at least two layers of leather, and lightweight or medium weight leather will be your best choice for clothing items.