A leather jacket can add a touch of style to any wardrobe. Leather is a material that is able to maintain its beauty, while maintaining the ability to endure years of use. It's a durable fabric, but it only lasts in its original condition if you provide proper care. If your jacket is not cared for, over time the leather can become cracked and worn.
Manufacturer's Directions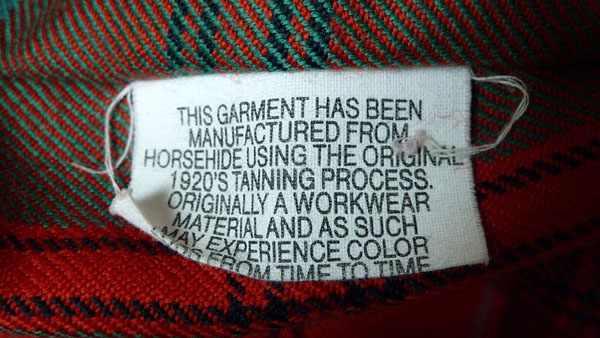 The quickest way to find out how to care for a leather jacket is simply to read the manufacturer's directions. If these instructions are available, refer to them for the care of your coat. Since there are many types of leather available on the market, the manufacturer will know best which type of leather your jacket is made from and the best way to care for that particular type of material.
How To Care For a Leather Jacket By Sealing It
The most important step in caring for your leather jacket is to use a waterproof sealant spray to protect it from water damage. This treatment also helps prevent stains. You need to spray any part of the jacket that will be exposed. Leather is prone to stains from water and moisture if it is not properly sealed – that's why it's important to seal the jacket as soon as possible. This product is available at most stores that sell leather garments.
General Care For a Leather Jacket
The general care of leather is the same for most types of leather. While some feel it's not important to know exactly what type of leather a jacket is made from, every itsy bitsy bit of knowledge goes a long way in helping you in taking good care of it and cleaning it correctly. The types of leather differ in a few ways. Leather comes from a variety of animals including exotic ones like ostrich, python and kangaroo. The type of process used to tan the material also produces different types of leather. Leather can be tanned to be soft for a dress or tough for a drum skin.
Leather care begins with wiping down the jacket to remove visible dirt. This can be done with a damp, but wrung out cloth. Doing this will remove most marks, dirt and grime from your coat. If the dirt or stain is not completely removed from the garment by wiping it, you'll need to take further steps to clean the jacket.
Leather Cleaning
There are a number of products specifically designed to clean leather products. These products can remove most stains without damaging the leather. However, you'll want to do a spot-test before using the product on a visible surface. Be sure to read the instructions thoroughly and follow them carefully to ensure you don't damage your jacket. If the stain is tough, this process may need to be repeated multiple times.
Some stains may not come off with a commercial leather cleaner. Other leather care websites recommend the removal of Road salt with a solution that is equal parts white vinegar and water. However, it is always better to use a commercial leather cleaner as the first and safer option unless it is not available on hand and you urgently need to treat the stain promptly before the stain sets in.
These same websites go even further and claimed Ink stains can be removed with non-acetone nail polish and some tough stains can be removed with an aerosol hairspray or toothpaste. If the commercial product does not work, these DIY alternatives may be able to remove the stain BUT they are highly likely to cost you dearly!
Just stop and think for a moment. Commercial leather conditioner manufacturers are in the business to make money and would have carried out extensive research and testing on their products before releasing them to the market. They seldom release a defective or ineffective product unless they enjoy being sued by customers and giving business away to their competitors. Their products usually work within set safety perimeters so if it can't do the job within safe limits, then so be it, as there is often a reason for it!
If the nail polish remover and aerosol hair spray were able to remove the Ink stains and other stains, that's only because those stains were seating on the thin layer of clear coat sealant protecting the leather surface. The nail polish and hairspray had dissolved the sealant and you were able to wiped it away together with the stain.
Now, what if the stain had penetrated the clear coat protective sealant all the way through to the leather surface? When you attempt to remove the stain(s), you are very likely to set the stain permanently into the leather and then you are basically screwed.
So, if your first attempt at removing stains on your leather jacket using commercial leather cleaners was unsuccessful, then it is time to bite the bullet and leave it to the leather professionals to handle the job because if they screwed it up, at least you have some legal recourse against them rather than sending nasty but untterly useless messages to those leather care websites for dishing out bad advice.
Conditioning the Leather Jacket
Weather and environmental conditions can be tough on your jacket. Conditioning helps to protect the jacket from the elements. Use a leather conditioner to keep the jacket from getting dry. Dry leather tends to crack and wear faster. If the leather is smooth, you can use leather polish to make it shine. Because leather polish can stain and discolor leather, it's important to know how and where to test the cleaning or conditioning solution on your leather jacket before applying it to the exterior of the whole jacket.
Hang Your Jacket Properly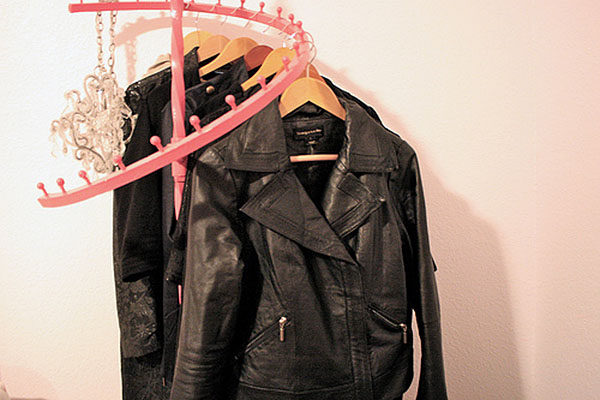 You want to avoid wrinkles in your jacket, which is why you need to hang your garment on a wide, padded hanger. Since leather is a natural material, it needs to breathe in a dry environment. Do not cover your jacket in a plastic garment cover. If you're going to cover the jacket use a nylon or cloth garment bag.
If the jacket gets wet or is damp, hang the jacket, at room temperature, to dry. Before hanging a wet jacket, ensure the pockets are empty and that the jacket is not placed near a direct source of heat. After drying, condition the jacket.
Care For a Leather Jacket By Visiting a Professional
At least once a year, pay a professional to clean your jacket. A professional cleaner will be able to properly clean your jacket and condition it and this will extend its life.