Leather is a popular material used for making a wide range of products, including home furnishings. It is very attractive, comfortable and durable, thus making it ideal for anyone who anticipates that their leather couches and chairs will get plenty of use. However, to make the most of this material, you should know how to maintain a clean leather couch without damaging it.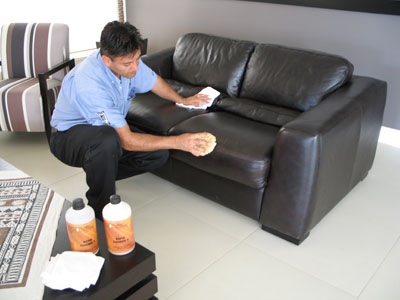 Leather is created by curing the hides of animals and treating them with a variety of chemicals in order to make it soft and pliable. The resulting skins may be dyed or otherwise treated to create a wide range of colors. In order to keep couches looking like new, it is necessary to use specialized cleaning techniques that will prolong the life of the furniture.
A Regular Schedule for Cleaning a Leather Couch
The first thing that should be done regularly is that the couch needs to be vacuumed. This should be performed preferably at least once a fortnight, whether or not more extensive cleaning will be done. The accumulation of food particles and other debris along the seams can cause unnecessary wear and tear on the seams and its immediate vicinity especially when bodily contact with the foreign objects will press and rub it against the leather surface. The cushions need to be removed so that the entire couch is treated.
More thorough cleaning needs to be performed on a regular basis, depending upon how often the furniture is used and the type of leather covering it. Having a clean leather couch is necessary to prolong the usability of the furniture and to make certain that it looks and feels great.
When it is time for one of these cleaning sessions, the entire area needs to be vacuumed and dusted to remove any particles and dirt. Wiping it down with a soft slightly damp Microfiber cloth should be sufficient to get any remaining dust once it has been vacuumed. If your leather covers are made with aniline dyed leather or semi-aniline leather, then that's all that needs to be done. Any further cleaning using any other methods will risk damaging the surfaces of these high quality leathers.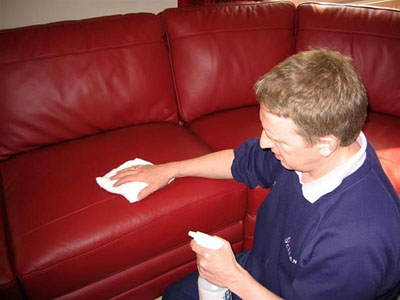 If your leather couch is made from the more commonly used Corrected grain leathers which are generally more durable and easier to clean due to the thick pigmented coating on the surface, then you can proceed to the next stage of cleaning.
Firstly, cleaning supplies should be collected near the furniture. This includes high quality PH neutral mild liquid hand soap and preferably a small pail of distilled water because chlorinated tap water can cause discoloration in the long term. Additionally, a large selection of clean Microfiber cloths should be on hand for the project. It is best if several of these are dedicated to the cleaning of leather items.
Working with one piece of the furniture at a time, the first step is to remove any ground in dirt. With a damp, not wet Microfiber cloth, a small amount of hand soap should be added to it and then buffed into the leather. Once all of the grime has been lifted, another damp Microfiber cloth can be used to remove all traces of the soap and grime residue. The cushions should never be placed under running water or they will become soaked, which can create its own set of troubles.
The leather surface needs to be allowed to dry thoroughly before proceeding to the next step. When working on a large item like a couch, the interim time can be spent cleaning and rinsing the next area. Once the surface is dry, if the situation warrants it, another rag with a tiny amount of leather conditioner can be used to condition the surface of the leather to replace the depleted oils that may be removed during the cleaning process.
For the conditioning of almost all leathers, I highly recommend the use of commercial leather conditioners that are specially formulated for Pure Aniline "Naked" leather, Semi-Aniline, Nubuck and Suede leathers. These types of leathers surfaces are generally more fragile and sensitive to leather treatments and the safest bet is always to use only leather conditioners manufactured specially for them when conditioning all leather types. It is always better to use smaller amounts and only just enough to get the job done. Nobody wants an oily couch seat.
A Job For Two?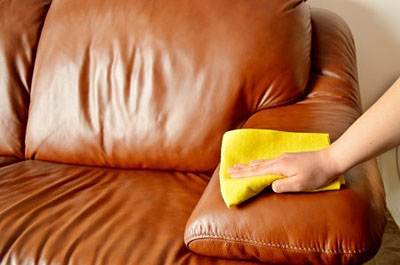 Because the surface area of a couch is quite large, it may be more convenient to have two people working on it at once. One person can focus on the soap and removal, of it while the other works on buffing in the oils.
Although these oils will help to keep the leather pliable and soft, I am now no longer an advocate of the application of non-commercial DIY homemade conditioners using oils that are readily available in the home or kitchen such as Olive oil etc. on leather furniture.
When it comes to leather there are simply way too many types of leather furniture out there that have been tanned using a wide variety of materials and processes and we cannot be certain what are the long term consequences and final end results of adding oils to them.
Before cleaning or applying conditioning oils to a leather couch, it is a good idea to test all the products that will be used on a place that cannot be readily seen. The back side of a cushion or an area on the skirting that is facing the inside of the couch is ideal. This way, you will see if any of them alter the appearance of the leather. Some may leave it darker or lighter than it was originally. Waiting a day or two to make a final determination ensures that it has properly set.
Sticking diligently with these simple cleaning techniques and cleaning schedule goes a long way in making and getting the most out of your leather furniture.