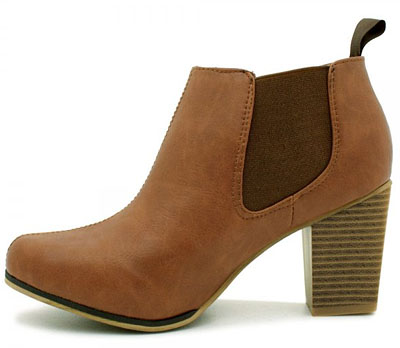 You can look great and be comfy and warm all winter long with good looking, well made ladies' leather ankle boots. While all kinds of boots are popular this season, ankle boots offer the most and best in convenience and versatility. A good pair of ankle boots can be worn with jeans, slacks or skirts and look great in any combination. To get the most value from your boots follow these smart tips for winning combinations.
Colour Coordination
If you wear your boots with a skirt, make sure the hemline skims just above the boot top. This shows off the boots to their best advantage. If you wear tights, coordinate their color with the boots, not the skirt. This will prevent an awkward break in color at your ankles.
Plain Vs Detailed
For the most versatility in a pair of ankle boots, avoid purchasing boots with lots of fussy detail. Patterns, embroidery, buckles and so on may look nice when the boot is standing alone, but this sort of trim can make it difficult to pair your boots with clothing. A pair of boots made of high quality, plain leather will go with anything you own and look great. Take good care of your leather boots, and they will last you a lifetime.
Heel Size
Avoid purchasing ankle boots with an excessively high heel or a flat heel. Either of these extremes will detract from the versatility of your footwear. Instead, choose a heel that is one to two inches high and stable. This will allow you to pair your boots with almost any type of clothing and wear them for almost any activity.
Selecting The Perfect Pair of Boots
When purchasing a pair of ankle boots, there are a few things you should keep in mind. It is important that you get the right boots to suit your needs, and they must fit correctly and be comfortable. Otherwise, they'll spend a lot of time in your closet and you'll have wasted your money. Here are a few tips to help you select the perfect pair of boots.
The Type of Leather To Look For
Look for real, genuine cowhide. This may be harder than it sounds for a couple of reasons. First, imitation leather gets better and better by the day, and it is sometimes hard to tell it's not genuine cowhide. Second, leather from other countries is often not made of cowhide. It may be made from the skins of rabbits, wild animals, water buffalo or even dogs and cats.
While water buffalo hide makes a very strong and water repellent leather, it is thick and stiff and more suited to saddlery than footwear. Rabbit hide is not good for footwear, except perhaps for slippers.
The use of cat and dog skins for apparel is abhorrent and unacceptable in a civilized society. For these reasons, you should always look for the "Genuine Cowhide" label when purchasing boots and other leather goods.
Genuine cowhide can be cleaned with saddle soap and oiled with neatsfoot oil or mink oil to keep it supple, strong and water resistant for years, if not decades. You'll pay a little more for genuine cowhide, but it's an investment that's well worth the extra expense.
Craftsmanship
Examine the craftsmanship of the leather ankle boots you are considering buying. Soles should be firmly attached with stitching as well as glue. Seams should be sturdily stitched. Insoles should be removable and replaceable.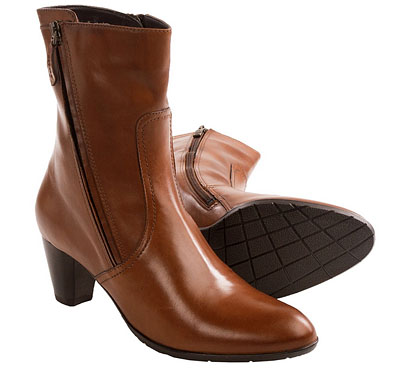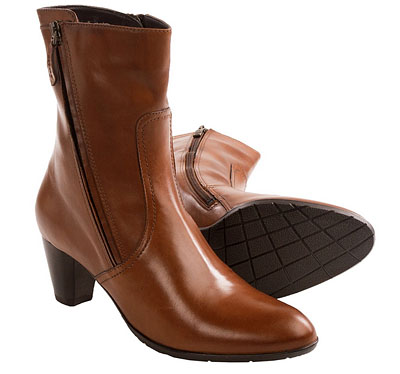 It's best to avoid buckles, clasps and zippers because they are likely to break. A plain, pull on boot will last forever with nothing to break.
If you do want a boot with a clasp or buckle, be sure it is made of a high quality, solid metal. It should not be a cheap metal with a gold-tone or silver-tone coating. This will flake and look cheap in no time, and it is likely to break.
If you choose a boot that has some sort of closing hardware or zipper, be sure the boot is made using high quality construction that can be repaired if anything breaks.
Try on the leather ankle boots you want and walk around the store in them. They should support your foot well, especially in the arch. If you need extra arch support, double-check to be sure you can remove the insoles and replace them with your own orthodontics.
Any footwear you are considering buying should feel comfortable right from the start. If anything pinches, you do not have a good fit. Buy boots that are big enough to accommodate your feet and your toes with no pinching or pressure. When you follow these tips, you can count on years of good service from your wise purchase of genuine cowhide ankle boots.