It's been a while since I written a product review but as they always say – Better Late than Never.
What got me writing product reviews again were my recent purchases at Etsy. For those unfamiliar with Etsy, Etsy is an e-commerce platform for independent highly skilled and creative artisans to showcase and sell handmade or vintage items and craft supplies. These items fall under a wide range of categories that include bags, jewellery, clothing, furniture and home decor, art, toys, craft supplies and tools.
Say No More to Mass Production
I have been using those mass produced cheap Made in China leather sling bags for quite a while now. They were cheap and of a reasonable quality but I always wanted a custom made top quality leather waist bag.
I chanced upon Etsy and while browsing through the myriad of leather waist bags displayed there, I came across an Etsy seller and his portfolio of leather bags and small leather goods like wallets, leather bracelets and key pouches.
Attention Grabbing
What caught my immediate attention and eye was this minimalist leather waist bag. I bought the black one first and I was so impressed with its workmanship and leather quality that I proceeded to order 2 more pieces in light brown and dark brown (burgundy) colours.
What You Get for your Money
All 3 bags are made with the finest Italian full grain leathers. They are aniline dyed with a light colour coating and guaranteed to develop a wonderful patina over time. I flipped open the covers so you can see the full leather grain fibres clearly.
Size Comparison
I have placed a Samsung Galaxy Note 8.0 beside and on top of the bag to give you an accurate feel and indication of its size.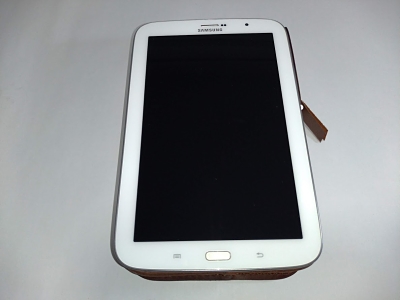 Hardware is Important too
Each bag comes with YKK zippers which is critical as the bag is expected to last a lifetime. YKK is a Japanese corporation and the world's largest manufacturer of Zippers so you can rest assured of its quality. The shiny magnetic button clips the leather flap securely in place.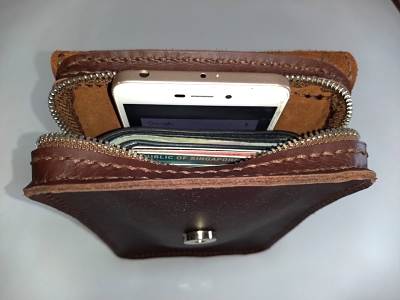 Generous Internal Space
It comes with an internal pocket that is able to easily fit the largest mobile phones currently available.
Critical Areas to Take Note
Pay close attention to the belt loop as this is where most of the stress takes place. As you can see from the photo, it is double stitched with high strength waxed polyester thread at the most stressed area and the loop is wide enough to fit all belt widths and thickness.
Free Gift for multiple purchases
I was pleasantly surprised to receive a free gift of a custom designed leather key holder with my name embossed on it when the second piece arrived.
Conclusion
If you know how to appreciate top quality leather waist bags custom made by passionate artisans at reasonable prices, this product review should set you in the right direction.
Unlike most bloggers, I am not paid and neither do I wish to be paid to write rave reviews about individual online merchants in order to maintain and present an impartial and objective product review for the benefit of my readers.
I wrote this review only because I paid for and received an excellent leather product(s) and great service from LeatherfishCrafts. I highly recommend you check out their Etsy store here and see if anything catches your eye.