Leather is a popular material used in the construction of a variety of items. It is incredibly durable and can provide years of wear and pleasure for the owner, provided that it is treated properly. Knowing how to clean leather is something that everyone who owns leather goods should know. This article has some valuable information about leather and how it should be handled for proper maintenance and long life.
Caring For Leather Goods
Because of the high price associated with quality leather products, many people consider them too delicate to be subjected to a lot of wear and tear. But it is a very durable material that can withstand a great deal of handling. However, it is the leather surfaces that need the most care and attention because not all leathers are created or processed equally but any product made from leather needs to be cleaned regularly in order to keep it looking fabulous and in the best condition. The recommended cleaning methods below will likely not be suitable for most luxury leather goods made from delicate or exotic leathers like lambskin, deerskin, python and ostrich etc. The specialized cleaning methods employed for such delicate luxury leathers will be discussed in detail in other articles in due course.
How Leather Is Made
Leather tanning vats
Real leather is made from the skins of animals that have been treated with different chemical applications in order to turn it into handbags, furniture, clothing and more. During the tanning and finishing of the skin, acids and other chemicals are used to finish the product. Some of these skins are from animals that were farmed for the particular purpose of making leather. However, the majority of leathers come from the skins of animals that were raised to produce meat. This is a more environmentally friendly method of obtaining the necessary skins to construct high quality leather goods.
Preparation Before Cleaning
Before you begin cleaning any leather product for the first time, it is important that you test your cleaning products and methods on an inconspicuous piece of the leather. There may be reactions due to how your leather was treated during the tanning and finishing processes that can alter the appearance of the leather when cleaned. Generally, this is limited to the product being a slightly different color when cleaned; most often that results in a slightly darker appearance.
In order to perform the test and subsequent cleaning of the item, you need to collect all of your supplies beforehand. The first thing you need is a high quality PH neutral liquid hand soap that is gentle on skin, preferably one that is environmentally friendly too. These products are often more gentle on the leather and still provide superior results. You should also have a high quality leather conditioner available. A collection of microfiber cloths that are specifically dedicated to your leather cleaning needs should be nearby. The larger the project, the more microfiber cloths you will need. To clean leather well depends upon the materials used, and microfiber cloths are best suited for this task.
The Cleaning Process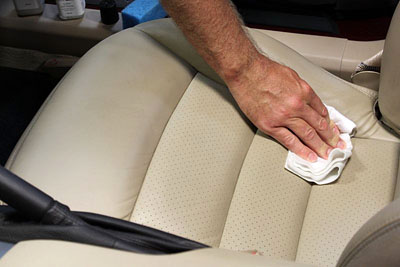 Get one of the microfiber cloths damp, not wet. To ensure you do not have too much water in it, wring it out thoroughly to remove any excess. Then, place a small dab of the soap onto the wet area. Remember that it is better to have too little soap than too much because you can always add a touch more if need be. Work the soap into the cloth.
Once you've done that, begin to buff the leather with the soaped up cloth. Use a circular motion and continue in the same area until it appears clean. For those areas that have an excessive amount of grime built up, you may need to repeat this step with a clean cloth and new soap. Continue until the leather surface looks free from debris and dirt build up.
Work on one area at a time. Use a fresh damp cloth to remove any soap residue still on the item. You may need to go over it several times to be certain. Do not place it directly under water. Allow it to air dry for at least 30 minutes before conditioning it.
Conditioning It
On a clean, dry cloth, place a small amount of commercial leather conditioner. Always follow the instructions label on the conditioner to ensure the best results. Rub it evenly into the cloth and then gently buff the leather with it. This will seal the leather and provide a nice finish for the item. It should be worked in well and the item should not feel or look greasy if done correctly because the key element is to use just enough oil to get the job done. If leather furniture is being cleaned, then wait a couple of hours before using the furniture as a precaution against getting any leather conditioner residue on your clothes.
Although these oils help to keep the leather pliable and soft, I no longer strongly advocate using oil of any kind on leather products. Nowadays, there are way too many types of leather products out there that have been tanned using a wide variety of materials and processes. We cannot be certain what are the long term consequences and final end results of adding oils to them. So long as you keep your leather items out of sunlight and heat sources, you do not really need to use commercial grade or homemade leather conditioning oils to condition them.
Knowing how to clean leather does not take a considerable amount of research. These simple tips and steps should allow you to do so with ease.